So a little over a year ago, I made my big hair change, going from this:
(April 2007 at Nationals)
To this: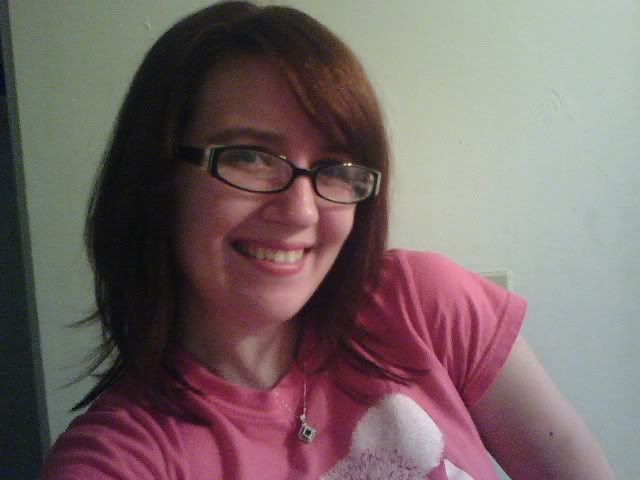 (3/15/08)
I've been keeping it around that length or a little bit longer for the past year. But now it's been three months since my last hair cut and it's looking pretty ragged (not to mention my roots are hideous right now - haven't dyed my hair since two days before the wedding, hence the lack of a 'what I look like right now' picture). So I'm going to get it cut again soon, but I need to figure out just what it is I want to do. I think it's time for another change, because the bangs have never quite worked out for me the way I've wanted them to.
So today I discovered
Mop Shots
, which provides a pretty cool service for people who can go to designer salons and drop $100+ on a haircut since it tells you WHERE people got their hair done. For me, I like it because it has a pretty specific search function. It seems to be a fairly new site because there aren't eleventy-million pictures yet. I've discovered two styles that I think I really want to try. Anyone want to weigh in?
Punk Bob
No, I'm not going to be putting the blue in my hair (SIGH - though I've been thinking about bleaching out my bangs and returning to my high school roots, lol), but I like how this still has some length to it. My concern would be on the upkeep however, as I imagine it could look very awkward if/when I started to grow it out again.
Layered Bob
I really like this one, but am afraid my hair might be
too
fine to pull it off. Would I need a straightening iron to keep all those little layers in check? 'Cause if so, that's a big NO right there (not that I have anything really against straightening irons, I just can't ever justify the purchase of one for myself). But it's cute and hip and I'm pretty sure my bangs are already long enough to pull it off...
I feel like this is a sort of ramble-y entry - I blame it on sleep deprivation (I know, it's the weekend, and I didn't work today because I requested it off, but I got a very nice wake-up call at 5 this morning, and then couldn't fall back asleep until 9 thanks to the wake-up antics, so I've been feeling tired all day). So I apologize for the ramblings, but I'm serious about the hair change. Any thoughts?